About the Artist:
Heddi Vaughan Siebel is an artist and filmmaker who lives and works in Cambridge, MA. In 1996 she began investigating her explorer grandfather Dr. John Colin Vaughan who attempted to be the one of the first to reach the North Pole as the Assistant Surgeon on the lavish Ziegler Polar Expedition 1903-1905. That their ship had been crushed by ice marooning them on Franz Josef Land was only one of the problems that split the expedition of 39 men into two camps. Heddi's research in attics and archives (begun years before internet search engines) unearthed the Ziegler Expedition's many journals, photographs, films, and drawings that survive today. Inside these materials she discovered her grandfather's story—and the source of her own artistic re-invention.
Photo of Heddi on Franz Josef Land by Anna Chekmarova 2018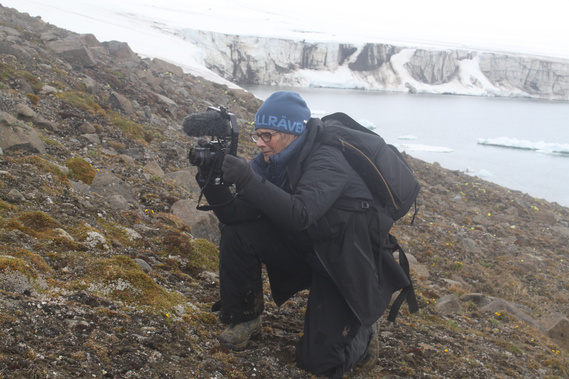 A Little Bit About the Arctic Projects...
In 1998, with a Fulbright Grant in painting, Heddi first retraced the Ziegler Expedition to Norway and Svalbard. This work made her rethink how historical stories are told, and took her further north. Between 2015-2018 she traveled 10 times to the North Pole by working on a Russian icebreaker. In 2018 she was the first American to live in a Soviet-era weather camp at Calm Bay, Franz Josef Land.
Professional Background and Support ...
Heddi holds an M.F.A. from Yale University and a B.F.A. from Rhode Island School of Design. She has taught Fine Arts in major American universities and currently teaches drawing at Harvard University. Her prints, paintings and photographs are in private collections, and the permanent collections of the Museum of Fine Arts, Boston; the DeCordova Museum, Lincoln, MA; the Boston Public Library; the Yale Art Gallery and the Graham Gund Collection. Support for her project has come from the J. William Fulbright Foundation, WGBH Filmmaker-In-Residence the LEF Foundation, the Berkshire Taconic Foundation, St. Botolph Club Foundation, Graham Gund and others.
Subscribe to my Newsletter
Sign up to get noticed about upcoming exhibitions and projects.